January 8th, 2019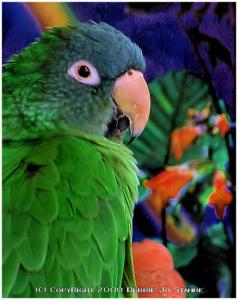 Having a parrot can be rewarding for a pet owner who does their homework to become a knowledgeable and responsible owner. Parrots come in many sizes, colors and species, each with its own personalities and care requirements. Some are talented talkers, some are closet talkers and some are uncontrolled screamers while others are fairly quiet.
Although each specie of parrot commonly has certain personality traits, each bird is an individual with its own personality. Some parrots such as cockatoos https://fineartamerica.com/featured/moluccan-cockatoo-debbie-stahre.html seek a lot of physical attention or turn into incessant screamers for attention, while others like African greys https://fineartamerica.com/featured/mongo-the-congo-debbie-stahre.html may not want to be handled as much if at all and may or may not be excellent talkers that know all the right answers when asked.
Parrots come from different parts of the world and eat different diets. Most species eat seeds and fruits, but some are not seed eaters and when fed a seed diet, eventually pay the price health-wise. It has become commonplace for parrot owners to feed their birds a lot of cooked food, but a parrot does not live on and never has in the wild lived on cooked food. There are many good seed mixes on the market and diets should include a good variety of fresh, uncooked fruits and vegetables. Lorys and lorikeets http://www.pbase.com/webofnature/image/69313494 should not be fed a seed diet.
Parrots, as pets, need large roomy cages with plenty of time out of their cage. Bird-safe toys are a must for companion birds as they need things that help make up for not being out in the wild where they would be foraging food and doing all the activities that come natural to them. Daily interaction with humans is important whether the bird is hand-tame or not and regular cage cleaning are all part of being a responsible pet bird owner.
In choosing a pet bird, consider adopting one in need of a new home. There are many, neglected and abused birds in need. If you really feel the need to get a baby, be sure to have the breeder/seller finish all hand rearing and weaning as there are many things that can go wrong during this time and having a single or a few lessons in hand-feeding a baby does not give the experience to know if something isn't quite right or to deal with anything that goes wrong.
It is important as a pet bird owner to keep the phone number of a good "avian" vet always at hand and not put the health of your pet in the hands of a non-avian vet because they do not have schooling in avian medicine.


April 27th, 2016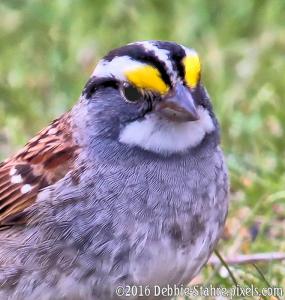 Spring is always very welcome after the long, cold winters in New England and we actually saw temps around 70 degrees one day recently here in Down East Maine, but the weather has turned bitter cold again with nights down in the 20s and 30s. Yesterday it snowed, enough to collect in some parts of Maine...
It's migration time for birds and some species of birds are already nesting. Others haven't arrived yet from their migration trips. Ospreys are on their nests, robins and some species of sparrows are nesting, phoebes arrived over the past couple of weeks and are singing everywhere you go. Yellow-bellied sapsuckers have arrived and I have seen quite a few hermit thrushes already. A couple mornings ago, I sat down on my outdoor photo stool, near the bird feeders and a little male ruby-throated hummingbird buzzed in to feed. He is the 1st one seen any where in this state this spring and arrived in time for more snow. Everyone is rooting for him.
Today when I went to town, I checked on the local osprey pair and found the Mrs. sitting quietly watching the sky. After a couple of minutes, I started my engine and in came Mr. Osprey, straight flight in and landed on top of the Mrs at which time copulation took place. During my morning walk, the birds were singing, happy to have the sun shining and looking for their mates while others were staking out their territories, woodpeckers hav been drumming hard and loud for weeks. One little wren sat high on top of a very tall pine and sang his little heart out, so loudly you could hear him everywhere. Many Canada geese are hanging out at a local pond on private property and haven't gone off to nest yet.
Spring is here for sure, but it will be nice to have some warmer weather...